From Jolene's earlier post, you already know that we would like you to

alter a cigar box

(or any low, flat box with a lid) for this month's challenge. I found mine for free at a local cigar shop! Jolene found hers in her Dad's attic. Patti bought hers at Michaels. They can be found. Maybe make a call or two before heading out to find one. When you find one, check out its construction for ease of altering. Some are a lot easier to alter than others.
Please link us a photo of your creation in the comments section of this post or email us by Februay 29th. (And it's leap year, so you have one extra day in February to play along.) A winner will be drawn randomly from all entries and will receive a cool RAK chock-full of alterable items and goodies. Good luck, and we can't wait to see your work!
SAR is pleased to announce that

Kelli Smith

has joined us as a Guest Designer this month! She is a talented scrapper and altered artist who currently resides in Bergen County, New Jersey with her hubby, 3 adult daughters, 2 cats and her baby-the dog! Kelli has been scrapping since the early 80's when her first album, full of high school memories, was created using construction paper and knick-knacks. Scrapbooking has come a long way since then and Kelli is enjoying the ride! She was a Guest Designer at

SBO

in late 2007 and is currently on the

Paper Potamus

DT.
When Kelli isn't creating, you can find her teaching at the local high school, traveling throughout the US or hiking. She is thrilled to be a guest here at SAR! Thanks Kelli!!
Here are photos of the DT's cigar boxes. Check out the

cigar box

gallery from time to time this month to see more! Happy altering!
Kelli
Patti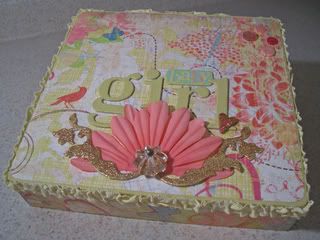 Jolene
Jan